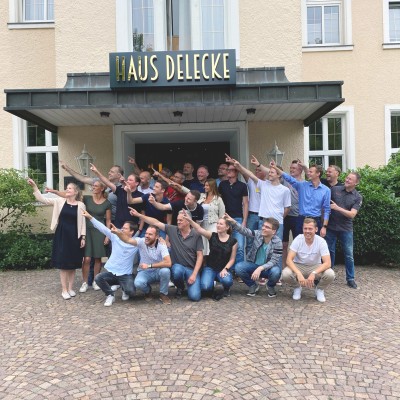 Last week all DBS employees turned off their screens and made a two-days trip to the Möhnesee in Germany (region of Sauerland). For some colleagues, the meeting was not only a long-awaited reunion, but also the first time they got to know each other. Some of the staff members, who started a new job at DBS during the pandemic, had the opportunity to meet their new colleagues in person for the first time.
Because with the operational start of the DBS in January 2020 the COVID-19 pandemic came as well. Extraordinary times marked by keeping distance, wearing masks and working from home were ahead. A face-to-face meeting with more than 25 people during those times was unthinkable. "Our team meeting was more than overdue. But the health of our employees is our top priority. We are very pleased, that after more than two and a half years we were finally able to come together as a company and, above all, as a team", emphasizes Karl Dietrich Wellsow, Managing Director at DBS.
Workshops in nature
After the official welcome by the management, a short report on the overall situation of the company followed. Afterwards, the teams came together in different constellations to develop new ideas and goals. On both days, they were free to move around the hotel grounds and find a place in nature. In an idyllic atmosphere and in bright sunshine, there were no limits to creativity.
An activity following the motto "recharge" was also on the agenda: for this, the team looked for a quiet place on the grounds to recharge their batteries with the help of various short exercises and to do something for their own health.
Olympics with BBQ buffet
In the evening, everyone went to a nearby event location. In an exciting Olympics, not only ambition, but above all team spirit was required. In a total of four disciplines, the three teams had to prove themselves in archery, curling, the stick game and the "cross of knowledge" 3D puzzle. In the end, there were two winners and a well-deserved second place. For refreshment, there was a delicious barbecue buffet and cool drinks.
We would like to thank the entire organizational team for the great program and the uncomplicated process. "We are already looking forward to our team meeting next year", concluded Matthias Koch, Managing director DBS.