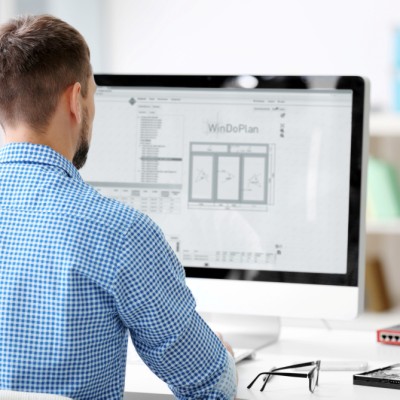 Digital tools for window planning
You are an architect or planner?
In this case you are surely familiar with the numerous requirements, which are placed on a modern planning process today. The keyword BIM (Building Information Modeling) is currently on everyone's lips. These and other changes within the industry often raise many questions. Our digital toolbox tries to provide answers to central questions of the construction industry by offering suitable digital solutions.
Our digital toolbox offers suitable solutions for more efficiency in the planning process. From the virtual and three-dimensional visualization of your designs, through technical and BIM-compliant planning, to functional window and door products, which give you a competitive advantage.
The solution DBS WinDo Imaging offers you modern visualization possibilities using Augmented Reality (AR) and artificial intelligence (AI). Thus, planned designs can be experienced virtually. This not only helps you as an architect or planner, but also your partners and customers. Because professional visualization makes the decision easier and provides security.
Using the digital planning software DBS WinDo Planning, you can quickly and easily plan window and door elements technically. All requirements and standards are met directly. With the appropriate BIM plug-in, you can also use your planning for BIM projects without any problems. This allows you to coordinate and plan objects holistically with all parties involved in the construction process. Changes are adopted directly and risks are minimized – for more efficient and faster construction processes. In addition, you can choose from various practical add-on modules to further simplify your planning: The measurement app makes it easier to measure window data. The fixing module helps during the window installation. The sound module analyses and calculates suitable sound values. The ventilation module determines requirements for technical ventilators and creates ventilation concepts. The trade module supports the planning processes at the retailer in cooperation with architects, window manufacturers or installers.
DBS WinDo Flow offers you a modern way to stand out from the competition. The NFC chip, which is built into the window sash, provides completely new possibilities for partners and customers. Using the corresponding software and two mobile apps, all product data can be read out digitally on a smartphone or tablet. The app InstallationPro offers support during the installation process and enables digital approval and documentation. The app WindowPass facilitates communication with end customers and offers new service and marketing opportunities.
All DBS solutions are modular and integrative. In addition, each solution is tailored to your needs individually. In this way, you can digitize your processes around the planning of windows and doors from project to project and step by step.